Of all the cultural organizations that once lined Fillmore Avenue in Buffalo's Polish East-Side only one still stands, the Adam Mickiewicz Library and Dramatic Circle. For the last 119 years, this sentinel of Polonia has preserved Polish literature, history, theater, music and culture here in the new world.
The Circle was born October 13, 1895 in the upstairs apartment of Mr. Joseph Slisz an employee of the newspaper Polaka w Ameryce. Joseph invited 15 of Buffalo's most influential Poles with the hopes of starting "an organization that would appeal to the Polish youth". After the group agreed to sponsor such a mission, one of the members spontaneously suggested that it should be named after the great Polish bard, Adam Mickiewicz which received a resounding approval. It was then proposed that the Club should offer theatrical performances, educational lectures and have a library. With their mission in place, the group voted in their first officers, Joseph Slisz was elected president, Wolciech Labinski was elected director, and Vincent Buczkowski was selected to be the first librarian.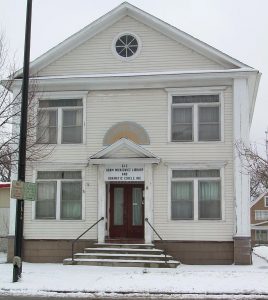 The new society first rented a room in the St. Stanislaus Parish complex and the Circle was legally incorporated in February of 1897. Membership grew until it became necessary for the Club to have its own house. In 1902 they secured a building at 612 Fillmore and moved the Club in. In 1914 the building was expanded to its current two story structure with a bar, theater and clubrooms. With prohibition Mickiewicz became a speakeasy, playing jazz and serving drinks to Polonia and police alike. By the time of the Great Depression and Second World War, many of Mickiewicz's founding members were passing on. Replacing them were new Polish immigrants fleeing communism. By the 1960s the Circle became the main gathering place for the post-war immigrants who in 1965 elected Marian Strzelczyk to serve as president for the next twenty years. In the 1980s second and third generation Polish-Americans began joining the club, giving it its current mix of older immigrants and younger Americans wanting to know more about where they came from.
Today Mickiewicz still has a 12,000 volume library, serves Polish beer and spirits, and holds Polish events including a St. John's Eve party, a reading of the May 3rd Constitution, and one of Buffalo's largest Dyngus Day parties.
Stories & Memories
Do you have any stories or memories about this location of the Polonia Trail? We would love to hear it! Please send us your story, and if it is chosen, it will be added to the site.
Send Your Story