AddressErie County, New York
With Buffalo's location on the rail lines that connect Chicago and New York, tens of thousands of hogs, heads of cattle and sheep were processed through the city. With the stockyards being located in the heart of east Buffalo, it was only a matter of time before a Pole would open a butcher shop. Bruno Jakubowski was that early pioneer when he opened his meat market at 351 Peckham Street in 1884. Since then Poles have been providing Western New York with kielbasa, salceson, kiszka, szynka, kabanos, and wolowina.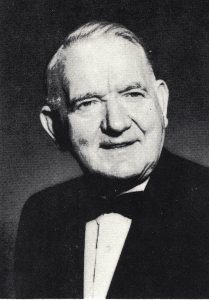 One of the earliest sausage makers who would become a titan of the industry was Anthony Szelagowski. Born in Poland, Anthony immigrated to Buffalo in 1887. Two years later Szelagowski opened his own butcher shop at 1428 Broadway. Anthony tinkered with a number of sausage formulas until he found one that was extremely popular. Soon that became the firm's focus and in 1914 Szelagowski went solely into the wholesale sausage business. Szelagowski's most famous line was the Shelly Brand of Sausage and Smoked Meats that included "Extra Polish" Polish sausage, water-boiled ham, blood tongue, and veal loaf. The company went out of business in the 1990s, but starting in 2005 Wardynski Meats took over producing the Shelly Brand and flavors.
Another popular producer was Joseph Malecki and his Malecki's Meats. Like Szelagowski, Joseph was also born in Poland and got his start by opening a meat market on Broadway. Established in 1913, Maleck expanded quickly and opened his own smokehouse and wholesale plant in Buffalo's far East Side by 1915. The brand became a regional sensation when Malecki's wieners became the exclusive brand of Ted's Hot Dogs. In 1965, they moved into a new plant on Clinton Street and soon after introduced their Polka Brand Sausage, an "AUTHENTIC Polish Sausage… made the delicious, Old-World way." The company thrived for another 20 years before closing its doors in the 1990s.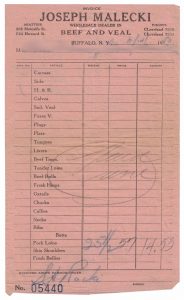 One of the longest lasting sausage producers has been Wardynski's Meats. By 1919, Frank X. Wardynski had settled in Buffalo, perfected his sausage recipe, and opened a shop on Peckham Street near St. Stanislaus. His sausages quickly became the most popular in the area, forcing Wardynski to expand his plant. Through the Great Depression and World War II, Wardynski's Meats could be found on plates across Buffalo. After the war, Frank's son Raymond began working for the family business before heading the firm in the 1950s.While Frank was a successful entrepreneur, he was also very active in Polonia and a respected philanthropist. He served as vice president of the Fillmore Savings & Loan Association, was an active member of the Chopin, Moniszko, and Polish Singing Circles and raised thousands of dollars as chairman of the Relief Fund for Poland. Wardynski's Meats continues to remain a popular Polish sausage across New York State.
There have been other well-known Polish butchers in Buffalo over the centuries, including Pasco and their White Eagle Polish sausage. In addition to Wardynski's, other popular Polish producers include Camellia's on Genesee Street, Lupas Family in the Broadway Market, and Redlinski's in Cheektowaga.
Bibliography
Album Pamiatkowe I Przewodnik Handlowy: Osady Polskiej W Miescie Buffalo, Z Dolaczeniem Okolicznych Miejscowosci Ze Stanu New York. Buffalo, 1906. Print.
The Buffalo Directory. Buffalo, 1850 - 1890. Print.
Fronczak, Francis Eustace, Aleksander Pitass, and Mieczysław Haiman. "Ci, Którzy Do Pomogli Do Wydania Księgi Jubileuszowej - Wladyslaw H. Zawadzki." Księga Pamiątkowa Złotego Jubileuszu Osady Polskiej I Parafji Św. Stanisława, B. I M. W Buffalo, New York, 1873-1923. [Buffalo, N.Y.]: Nakładem Komitetu Wydawniczego, 1923. Print.
Kobielski, Milton J. Millennium of Christianity of the Polish People, 966-1966: Buffalo Diocesan Observance. [Buffalo]: Millennium Committee of the Diocese of Buffalo, 1966. Print.
"'Man of the Year' Title Awarded to Wardynski." Buffalo Courier-Express[Buffalo, NY] 7 Jan. 1962: 17. Print.
"Wardynski History." Buffalo NY Polish Sausage & Hot Dogs. Wardynskis & Sons Inc, n.d. Web. 17 Jan. 2016.
Witul, Gregory. "Malecki's Meats Promotional Item Brings Back Memories." Am-Pol Eagle Newspaper, 8 Jan. 2013. Web. 17 Jan. 2016.
Witul, Gregory. "Remember Shelly, One of the Most Popular Brands in Buffalo." Am-Pol Eagle Newspaper, 8 Jan. 2013. Web. 17 Jan. 2016.
Stories & Memories
Do you have any stories or memories about this location of the Polonia Trail? We would love to hear it! Please send us your story, and if it is chosen, it will be added to the site.
Send Your Story