No other Polish Roman Catholic parish in the city of Buffalo has as dynamic history as that of St. Adalbert's Basilica. From its creation, to the split that would form the Holy Mother of the Rosary Cathedral, its status as a basilica and the parishioners' fight to keep it open in the face of closure, the story of St. Adalbert's has been a lively one.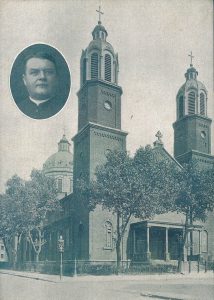 St. Adalbert's was the first parish to be carved out of St. Stanislaus church in 1886. Before that time, all of Buffalo's Polish Roman Catholics attended St. Stanislaus parish, headed by Father John Pitass. Some of the parishioners at St. Stanislaus were less than pleased with Father Pitass and how he ran the church. They first appealed to the bishop to start another Polish parish, but he denied their request. Then on their own they tried to form a church. At this point, the Vatican intervened and allowed for the new parish of St. Adalbert's to be established with Father Anthony Klawiter in charge.
Father Klawiter purchased a plot of land to build his church. The first structure, a wooden church, blew down in a wind storm. To prevent that from happening again, the second church was made with stone, which then promptly burned to the ground under suspicious circumstances. Klawiter was then replaced with Father Pawler which again upset the parishioners who still had issues with Pitass and the bishop. Pawler was in turn replaced by Father Mazejewski, who was replaced by Father Lex. Even with this flux of priests, the parish still managed to build and dedicate the massive Romanesque church and establish a cemetery.
When Father Thomas Flaczek was installed as St. Adalbert's priest in 1895, the upset parishioners rioted, forcing Flaczek to leave by police escort. At this, the bishop closed the church and the angered parishioners left to form the Holy Mother of the Rosary Cathedral of the Polish National Catholic Church. The now calm church reopened and Father Flaczek would begin a 30-year pastorship at St. Adalbert's.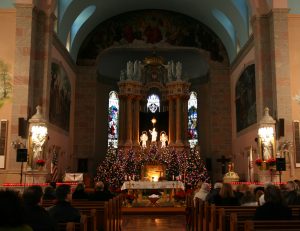 It was during this era that the church was linked with a basilica in Europe, giving it the popular name, St. Adalbert's Basilica. Around the same time, German stained glass windows were installed and parish native Joseph Mazur was hired to decorate the building with murals. Despite the Great Depression and World War II the parish still flourished. It wasn't until after the 1940s that St. Adalbert's felt the effects of suburbanization. By the end of the 1980s, the parish school closed and membership continued to fall.
As part of the Roman Catholic Diocese of Buffalo's reorganizational plan, the Journey in Faith and Grace, St. Adalbert's was slated to be merged with St. John Kanty's, and the basilica was to be closed. After the parish and much of the Polish community protested, which included the formation of the Save St. Adalbert's Committee, and letter from the Vatican, a compromise was reached that allowed the building to be used for four Masses each year. In 2013, St. Adalbert's played host to the first Mass Mob, a social media movement to visit and support historic churches across the U.S
Bibliography
Album Pamiatkowe I Przewodnik Handlowy: Osady Polskiej W Miescie Buffalo, Z Dolaczeniem Okolicznych Miejscowosci Ze Stanu New York. Buffalo, 1906. Print.
Album Pamiatkowe Zlotego Jubileuszu Parafii Sw. Wojciecha, B.M.: Buffalo, New York, 1886-1936. Buffalo, NY: Broadway, 1936. Print.
Bucki, Carl L. "To Popes, Bishops and the People It Is St. Adalbert's Basilica." The Am-Pol Eagle. The Am-Pol Eagle Newspaper, 14 Feb. 2008. Web. 03 Jan. 2016.
Donohue, Thomas. History of the Diocese of Buffalo. Buffalo, NY: Buffalo Catholic Publication, 1929. Print.
Downes, Lawrence. "Dying Churches, Revived in a Flash." The New York Times. The New York Times, 21 Mar. 2014. Web. 04 Jan. 2016.
Ederer, Martin F. Buffalo's Catholic Churches: Ethnic Communities and the Architectural Legacy: An Illustrated History. Buffalo, NY: Digital@batesjackson LLC, 2003. Print.
Fronczak, Francis Eustace, Aleksander Pitass, and Mieczysław Haiman. "Ci, Którzy Do Pomogli Do Wydania Księgi Jubileuszowej - Wladyslaw H. Zawadzki." Księga Pamiątkowa Złotego Jubileuszu Osady Polskiej I Parafji Św. Stanisława, B. I M. W Buffalo, New York, 1873-1923. [Buffalo, N.Y.]: Nakładem Komitetu Wydawniczego, 1923. Print.
Holy Mother of the Rosary Cathedral: 1895-1995, a Century of Service in the Lord. Orchard Park, NY: RW Publications, 1995. Print.
"Host Parishes Are Listed For Bishops' Visit." Am-Pol Eagle [Buffalo, New York] 5 Aug. 1976: 4. Print.
Kobielski, Milton J. Millennium of Christianity of the Polish People, 966-1966: Buffalo Diocesan Observance. [Buffalo]: Millennium Committee of the Diocese of Buffalo, 1966. Print.
Penasack, Charles. St. Adalbert's Basilica: Guide to Stained Glass Windows and Other Sacred Art. Buffalo, NY: St. Adalbert Basilica, 2000. Print.
"Polonia Extends Warm Welcome to Polish Hierarchy." Am-Pol Eagle[Buffalo, NY] 19 Aug. 1976: 1-4. Print.
"St. Adalbert." Polish Parishes of WNY. Polish Genealogy Society of NY, n.d. Web. 03 Jan. 2016.
St. Adalbert's Basilica 125th Anniversary 1886-2011. N.p.: n.p., 2011. Print.
Stories & Memories
Do you have any stories or memories about this location of the Polonia Trail? We would love to hear it! Please send us your story, and if it is chosen, it will be added to the site.
Send Your Story