The "Mother Church" and cradle of Western New York's Polish Community, St. Stanislaus Bishop & Martyr Church in Buffalo exists as an iconic place of worship and the most important site in all of Polonia.
Prior to 1870, a small community of Poles resided within the city. Centered in the area of Broadway and Sycamore between Pine and Walnut Streets, they numbered only around 150 people total. These immigrants, the majority of who were aristocrats and professionals, were drawn here by the sense of adventure the New World promised them.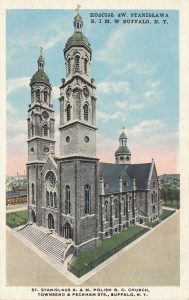 By 1873, this community had grown to include 500 people. The majority of the immigrants did not stay in Buffalo longer than a few days, instead opting to travel further west to the already established Polish communities in cities such as Chicago and Detroit.
In December, 1872 Rev. Ivannev M. Gartner began a series of Polish services at Saint Michael's Church. Upon the conclusion of this work, he advised the Poles attending to organize as a congregation, thus forming the roots of Saint Stanislaus parish. On December 12, 1872 a group of 55 Poles met to establish an organization known "Spolka Polska" (Polish Cooperative) otherwise known as the "St. Stanislaus Society" which became the nucleus of the future parish.
Father Gartner travelled to Rome where a young seminarian named, Jan Pitass, was studying at the Collegium Romanum. In 1873 Gartner met Pitass and convinced him or as Pitass described, "destined him to Buffalo." Pitass transferred to Niagara University to finish his studies.
After graduating from the university, Pitass was ordained by Bishop Ryan on June 7, 1873. The day after arriving in Buffalo, Pitass celebrated Mass with the Society of St. Stanislaus, and formally established St. Stanislaus Bishop and Martyr parish. As the new parish began looking for a home, Pitass was approached by real estate developer Joseph Bork with an offer. Bork would donate a parcel of land for the new parish, in the heart of his development, if Pitass would build his church there. With the offer of free land, the priest took Bork up on the offer and St. Stanislaus found a home at the corner of Peckham and Townsend in Buffalo's East Side.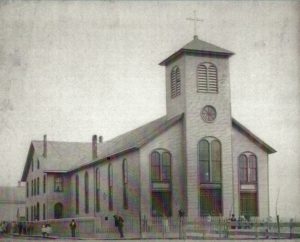 Construction of the small wood frame church, rectory, and school would take the rest of 1873 and on January 25, 1874 Bishop Ryan dedicated the building. With a parish organized, Polish people passing through the city on their way West were given impetus to stay. By January, 1874 Rev. Pitass had completed the first building for St. Stanislaus thus initiating the colonization of the East Side by Polish immigrants.
At that first Mass, sermons were given in Polish, German, and English so all in attendance could understand the importance of this first Polish parish. In the spring of that year the school opened with 170 students enrolled.
Following an initially slow period of growth from 1873 to 1877, the number of Poles arriving in the area increased dramatically. Drawn to the community formed within the shadows of St. Stanislaus Church, their numbers increased almost exponentially.
In January, 1879, 2,500 Poles resided in the area, a number which increased to 3,500 by December.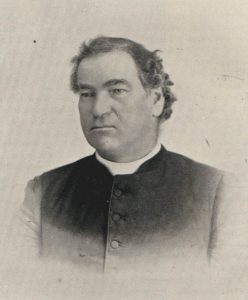 With those already here writing home and telling of the prosperity of the city, their numbers increased to 5,500 by 1880 and to 9,500 the following year.
The period of 1884-1888 saw the largest influx of Poles arriving to the city with peasants, seeking an improved economic climate in the States, constituting the majority of these arrivals. By 1890 over 20,000 Poles resided in the Polish East Side on land which twenty years previous had been undeveloped. By 1910, the colony grew to nearly 100,000
By 1881 Pitass soon found his small church to be inadequate. The reverend hired T. O. Sullivan to design a stone church based on the Basilica of St. Mary and St. Bartholomew found in Pitass' home town of Piekary Śląskie. On August 10, 1882, a ceremonial groundbreaking occurred for the new place of worship. When completed, the $100,000 limestone structure would have two towers, an upper and lower chapel, stained glass made in Buffalo, an Austrian set of windows depicting the life of St. Stanislaus, and a large Wm. Johnson & Son pipe organ.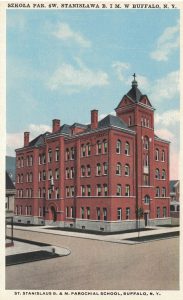 With additional immigrants arriving, conditions within St. Stanislaus became exceedingly crowded resulting in the establishment of other Polish Roman Catholic parishes. In 1886 St. Adalbert's parish became the first new congregation to be formed out of the parish boundaries of St. Stanislaus. The diocese located the house of worship north of Broadway in a relatively unsettled area.
Additionally, St. John Kanty, Transfiguration, Corpus Christi, St. Luke, and Queen of the Most Holy Rosary churches were built to accommodate the burgeoning population. But even with the loss of so much territory St. Stanislaus continued to grow, both in size and influence. Twenty-five parishes were formed between 1873 and 1913. The hand, mind, and vision of Jan Pitass can be found in approximately twenty of that number. That legacy alone staggers the imagination.
Pitass is credited with operating Polish newspapers and assisting in the foundation of the first Polish fraternal organizations in the United States. For his amazing work in the Polish community, Bishop Ryan bestowed the rare title of "Dean" of all Polish parishes in the Diocese of Buffalo to Pitass in 1894.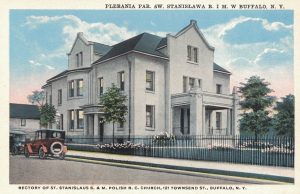 In 1905, Archbishop Francis Albin Symon toured the Polish parishes of the United States on behalf of the Pope. While in Washington, Father Pitass joined the Archbishop and met with President Theodore Roosevelt. In its account of the summit, the Washington Post reported Father John Pitass as the "Rector of the largest Catholic parish in this country."
Dean Jan Pitass passed away in 1913. In the century that followed, St. Stanislaus would see the future Pope Saint John Paul the Great at the altar, and Presidents Gerald Ford and Lech Wałęsa in the pews.
During Holy Week of 2015 and amidst great consternation on the part of St. Stanislaus parishioners, it was announced that the Pauline Fathers of Doylestown, Pennsylvania would be taking over the parish from the diocese.
Bibliography
Album Pamiatkowe I Przewodnik Handlowy: Osady Polskiej W Miescie Buffalo, Z Dolaczeniem Okolicznych Miejscowosci Ze Stanu New York. Buffalo, 1906. Print.
"Church Dedicated." Courier & Republic [Buffalo, NY] 26 Jan. 1874: n. pag. Print.
"Church to Observe Its Golden Jubilee." Buffalo Evening News [Buffalo, NY] 8 Dec. 1922: 14. Print.
"Dean Pitass Passes Away." Buffalo Express [Buffalo, NY] 13 Dec. 1913: n. pag. Print.
Ederer, Martin F. Buffalo's Catholic Churches: Ethnic Communities and the Architectural Legacy: An Illustrated History. Buffalo, NY: Digital@batesjackson LLC, 2003. Print.
"Ford, on Final Day of Campaign Stressing 'Limits of Government '"Watertown Daily Times [Watertown, NY] 1 Nov. 1976: 1. Print.
Fronczak, Francis Eustace, Aleksander Pitass, and Mieczysław Haiman. "Ci, Którzy Do Pomogli Do Wydania Księgi Jubileuszowej - Wladyslaw H. Zawadzki." Księga Pamiątkowa Złotego Jubileuszu Osady Polskiej I Parafji Św. Stanisława, B. I M. W Buffalo, New York, 1873-1923. [Buffalo, N.Y.]: Nakładem Komitetu Wydawniczego, 1923. Print.
Kobielski, Milton J. Millennium of Christianity of the Polish People, 966-1966: Buffalo Diocesan Observance. [Buffalo]: Millennium Committee of the Diocese of Buffalo, 1966. Print.
One Hundred Years of Grace, 1873-1973: Commemorating St. Stanislaus B. and M. Parish, Buffalo, New York, Centennial. Buffalo: St. Stanislaus, 1973. Print.
"Polonia"- Joseph Bork & St. Stanislaus Church by Hames Napora
The Polonian Legacy of Western New York by Szemraj & Slawinska
Prabucki, Edward. "Lech Walesa Visits Buffalo." Searchers 12 (Winter 1994): 14. Print.
"Received By President." The Washington Post [Washington DC] 9 June 1905: 4. Print.
"St. Stanislaus Church." Buffalo Courier [Buffalo, NY] 15 Oct. 1886: n. pag. Print.
Witul, Gregory. "A Saint in Our Midst - Cardinal Wojtyla's 1969 Visit to Buffalo." Am-Pol Eagle Newspaper, 27 Apr. 2014. Web. 23 Dec. 2015.
Stories & Memories
Do you have any stories or memories about this location of the Polonia Trail? We would love to hear it! Please send us your story, and if it is chosen, it will be added to the site.
Send Your Story